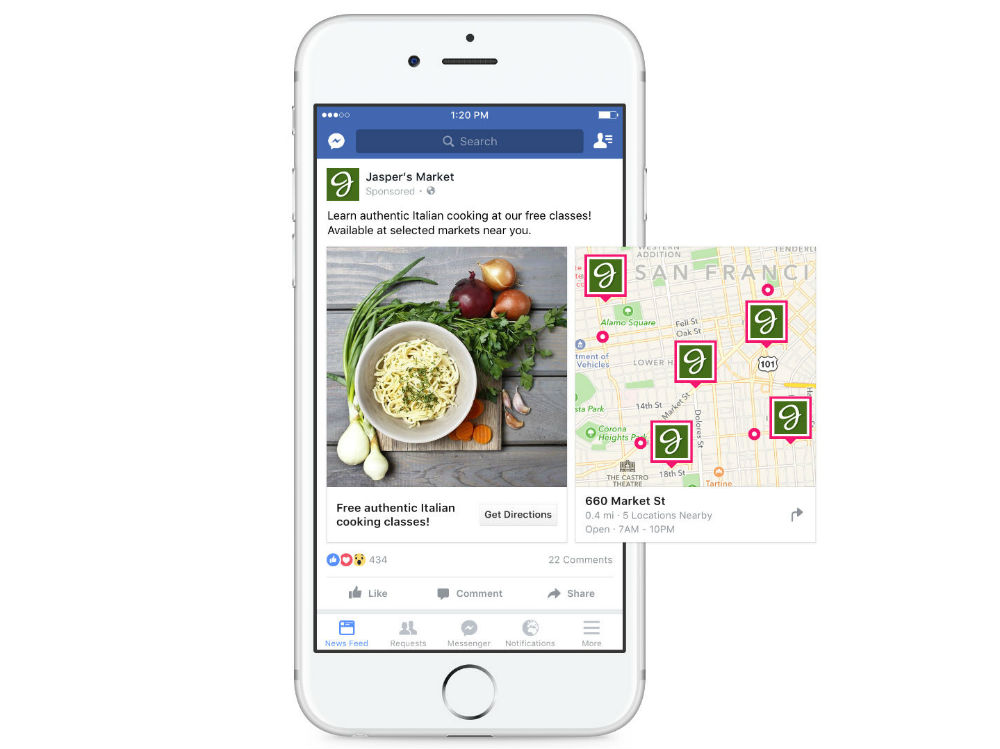 For multi-location and franchise businesses to have a successful social media presence in 2016, it is important to have an individual Facebook page for each of their brick-and-mortar stores.  This helps ensure each location can be easily found in Facebook's increasingly popular mobile search and allows companies to post different content on each of their pages to reflect local audiences.
To help multi-location businesses reach out to customers this way, Facebook has recently added a cascading option to their Facebook Locations structure, allowing a company to create a post on their main page and have that post cascade down to each of their individual Facebook pages.

At first glance, this new option from Facebook looks to be an ideal solution for businesses with individual location pages looking to reach a larger audience and keep their local pages updated with fresh content. However, Facebook's new feature remains extremely limiting in terms of customization and localization. Our proprietary software, called Social Brand Amplifier, expands on Facebook's ability to post content to multiple pages at once, adding more flexibility and functionality. Here is a look at some of the differences between the two tools.
Customization:
Facebook – Currently, Facebook only offers businesses set up on Locations three options for how Facebook posts are cascaded down from a company's main page to their individual location pages.  These posts can either appear on all local pages, only local pages that do not already post their own content (default option) or no local pages at all.
Reshift's Social Brand Amplifier – The SBA allows users to group their local Facebook pages together, and to create as many groups as desired.  They can then cascade their Facebook posts to any or all of the groups they select. These groups can be determined by region, language, closest football team — whatever differentiation the user chooses. For example, if you have a brand with locations across the United States but your promotions are state-specific, you could cascade one post to all of your Facebook pages for stores in California that speaks to the California offer, and a completely different post to all of your Facebook pages for stores in New York that speaks to the NY offers.  Additionally, you can choose not to have your cascaded posts show up on your national page at all.
Local Activity:
Facebook – On Facebook, the default option is to show main page posts only on local pages that do not have their own posts. Automatic publishing to a local page will stop as soon as you publish a post on that specific local page, and the automatically generated posts you previously cascaded will disappear from that local page altogether.
Reshift's Social Brand Amplifier – We believe that the best local Facebook pages have a mix of local content sprinkled with national promotions and posts. Therefore, we encourage local admins to post on their own Facebook pages. Cascading content from the main page in no way interferes with local admin activity. The SBA also allows admins of the main page to monitor the content the local admins are posting and ensure it is on-brand.
Covers and Profile Photos:
Facebook – The only content that can be cascaded from a company's main page to their local pages is posted. If users would like to change an aspect of the overall look of their local Facebook pages, this would still have to be done manually on a page-by-page basis.
Reshift's Social Brand Amplifier – Everything from new posts to timeline covers to profile photos to apps can be cascaded through the SBA. No matter which type of content users are cascading, it can be added to all locations or to only a specified group of locations. For example, you can choose to change all of your local Facebook covers with one click, or just a specific group's. Also, the content does not have to also appear on the company's main Facebook page, unless the user chooses that option.
Analytics:
Facebook – All posts cascaded from the company's main page to their local pages will be considered "shared" between the different pages. This will mean that it is impossible to determine on which local pages the post performed best.  Also, the post will appear to originate from the main page as a shared post, not from the local page.
Reshift's Social Brand Amplifier – All posts that are cascaded to different locations through the SBA will appear as though they were posted by each specific page.  Not only does this mean the posts will look more personalized for each area, it means the numbers of likes, comments and shares will be unique to each location, not all lumped together as network-wide metrics. Additionally, the SBA also offers aggregated analytics, allowing brands to see their likes, reach, and check-ins across the entire network.
Monitoring:
Facebook –  Though Facebook Locations now allows main pages to automatically post content on local pages, main page admins still do not have visibility into the reviews and comments the local pages are receiving. In order to monitor that, main page's admins must visit each page, or manually add themselves as an admin to every local page and set up notification alerts.
Reshift's Social Brand Amplifier – Using the SBA, all reviews and comments posted on all the local pages are aggregated in one place for users to easily review and track. As well, email alerts can be set up so emails are automatically sent to whichever inbox the user chooses, alerting them of new comments or reviews from any of the company's local Facebook pages so nothing gets missed.
Reshift first launched the Social Brand Amplifier in 2013 and it is currently being used by hundreds of companies from a diverse group of industries throughout 17 countries.
To learn about how our Social Brand Amplifier can help your multi-location business manage your network of local Facebook pages, email us at [email protected].
TAGS