Last week, we wrote about Facebook's new Store Visits campaign objective, which allows multi-location and franchise brands to manage Facebook advertising at the head office level that targets customers near their local stores. This week, it appears that Facebook has opened that functionality to more campaign objectives.
If your brand has implemented Facebook's Locations framework (formerly known as Parent-Child), you will now see this new "Business Locations" option when you select the Traffic or Store Visits objectives. This means that if you would like to create Facebook ads designed to drive traffic to a website, you can now easily target those ads to be served to people around the local stores you select.
When you are defining your target audience at the ad set level, you now have the option of selecting "Business Locations," which will serve your ads to people around each of your stores (based on the address of each local page). The default is all of your locations, however, you can click on the "Edit Locations" link and pick and choose which cities you'd like to target.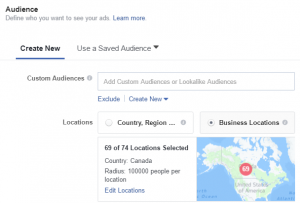 Unfortunately, the Traffic objective does not offer the local ad flexibility of the Store Visits objective. The Store Visits objective allows multi-location and franchise companies to serve ads from their local Facebook pages, which is a huge benefit. In addition, the head office team is able to incorporate dynamic parameters into the ads to localize the ad copy to some degree. For the Traffic objective, all advertising is instead served from the main Facebook page and there are no localized copy parameters.
Despite this drawback, we are encouraged to see that Facebook is continuing to roll out local advertising solutions for franchise and multi-location companies. Although not perfect, this added functionality does make it easier for multi-location businesses to nationally serve click-to-website ads to people around their local stores. If you are interested in learning more about local advertising strategies, we suggest reading our guide on Facebook advertising for franchises.
Please contact us at [email protected] if you'd like more information on how to set up Facebook Locations for your franchise or multi-location brand and take advantage of these new ad features.
Related Links:
TAGS