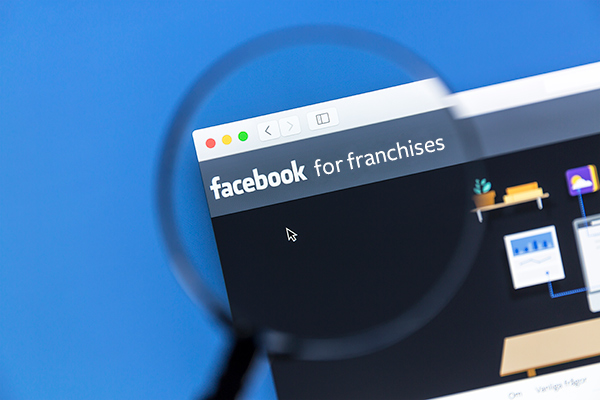 In a previous blog post in this series, we discussed several strategies franchise organizations can pursue to achieve superior Facebook advertising results. In this post, we will cover three of the top opportunities to unlock the power of your franchise network.
This is the second article in a series on the topic of social media advertising for franchises. For best results, we suggest reading each article in the series as follows:
As we discussed previously, the goal is to implement a social media advertising approach that works because of the unique nature of your franchise structure, not despite it. This is where the social networks (including Facebook) have historically been quite weak. Their advertising model for a long time was very centralized in its approach, which did not support the franchise business model. Over the years we have seen many instances where franchisors and franchisees have implemented manual and time-consuming workarounds in an effort to capitalize on the opportunity social media affords, usually with suboptimal results.
However, over time Facebook, in particular, has become increasingly local in its approach and has created both back-end infrastructure and advertising tools which are more aligned with the needs of multi-location, retail, food services, and franchise businesses. Although the tools they currently offer are intended more for large owned networks as opposed to franchises, they are a dramatic improvement over what was available only a few years ago.
Here are three of the top Facebook tools, ad units, and targeting capabilities that franchise companies should consider:
1) Facebook Locations
Previously called Facebook Parent-Child, the Facebook Locations framework is a powerful way for multi-location businesses to structure and manage their Facebook pages. By now you almost certainly have created local Facebook pages for some or all of your franchise locations. If you haven't implemented local pages yet, you should read our blog post on why this is a critical step for any multi-location business.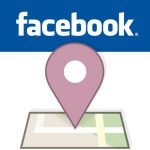 Assuming you do have a Facebook page for each location, you have almost certainly experienced some issues keeping on top of the management of those pages. Ensuring your head office team has admin access to each page, assisting franchisees with access and training, and maintaining the accuracy of the address, phone number, etc. can be incredibly time-consuming. It is also sometimes frustrating for franchisees when the burden is put on them to set up and manage their local Facebook page on their own.
In many cases, we find that franchise companies often unknowingly have multiple pages for one location either because multiple people in the company create the same page (not knowing someone else was doing it), or customers have created Facebook places pages without their knowledge.
The Locations framework assists with these issues and more by connecting all of the company's local pages to the head office one in an easy-to-use manner. Page access, setup, and management are all dramatically streamlined. Unfortunately, analytics are not amalgamated and content sharing is an "all or none" approach. However, despite these drawbacks, the Locations setup is something all franchise companies should strongly consider. If you are interested in learning more, please review our comprehensive coverage of the Facebook Locations framework.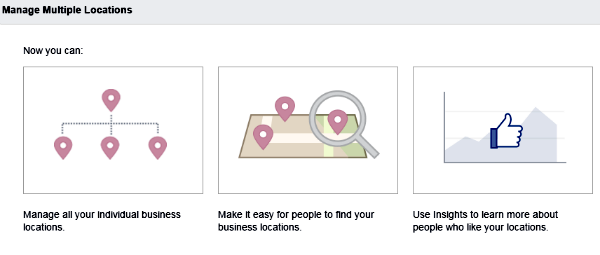 2) Dynamic Ads
Facebook's Dynamic Ads product is a great way for multi-location businesses to achieve a quasi-local approach to advertising through local product customization. Facebook rolled out their Dynamic Product Ads last year, allowing companies to target potential customers with ads highlighting their specific products. The process is somewhat involved:
Facebook requires that you upload a list of your products to Facebook Business Manager. The list needs to include quite a bit of information on each product such as its name, description, website URL, image URL, availability.
You then need to install the Facebook pixel on your website and modify it to report when product IDs from your product list are being viewed, added to the cart, and purchased. Although this may sound easy enough, you need to know what you are doing to implement and configure the pixel correctly.
You can create a dynamic ad template that is to be used with your products. The idea is that the ad unit will automatically pull in a different product depending on the person viewing the ad.

Once that is all set up, you are pretty much ready to go. The usual approach is to serve product-specific ads to people who have been on your site previously. For example, if Peter visited your site and looked at some brown shoes but did not buy them, the next time he goes on Facebook the ad system would automatically show him an ad for those same brown shoes, or perhaps the same ones but in blue. If he bought those shoes, he instead might see an ad for a brown belt.
Now, this approach is not particularly local so normally it probably wouldn't even make a "good ideas for franchise systems" article like this. However, late last year Facebook launched an enhancement to the product called Dynamic Ads for Retail. Although not designed specifically for franchise companies, the functionality is very interesting for any multi-location business.
Dynamic Ads for Retail allows you to automatically customize creative for every location based on local product availability. Whereas before the ads would simply advertise products based on the catalog, this approach ties into your local inventory levels to serve ads only for products currently available in the store closest to that person, and will show the price of that item specific to that store.
Using this functionality enables the franchisor to set up an automated campaign that advertises only around each of the franchise locations, shows just the products each location has for sale and uses their local prices. So, in effect, each local location has a custom ad which you can be confident only has their products and their pricing.
The ads have some pretty powerful capabilities built into them:
Local availability: The ad includes an availability indicator to show that the product is available at a nearby store
Product summaries: Advertisers can use Facebook-hosted product summaries to inform a potential customer about the product
Customer actions: Product summaries allow people to contact the nearest store, buy online, or save the product for future reference
Similar products: Similar products available at the nearest store can be featured

The downside, of course, is that this approach requires a robust inventory management system to inform Facebook what products each location is if they are in stock, and how much they cost. If you don't have that level of data (which many franchise systems do not), then this probably isn't the ad strategy for you.
3) Store Visits
Facebook has a Store Visits objective, which allows multi-location businesses to optimize their ads to increase foot traffic to their local stores. The optimization and measurement are amazing, but even more important from a franchise perspective is that Facebook has incorporated some new ad creation and syndication tools which will make your life a lot easier.
The way it works is that Facebook will show your ads to people they think are likely to actually visit one of your stores.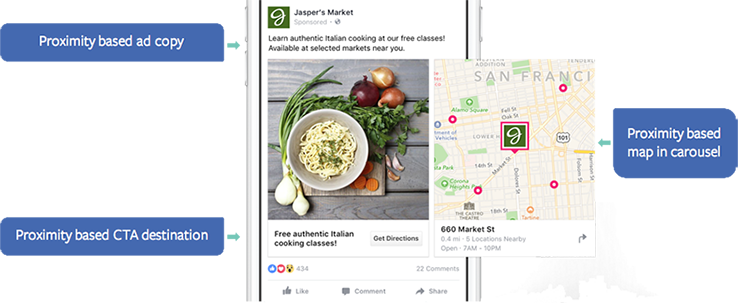 They do this through a combination of demographic and interest-based profiling and geographic targeting. Because the idea is to get someone to show up to a physical location, Facebook obviously doesn't want to serve your ads where you don't have stores. To do this, they require that you implement the Locations framework (discussed above) before you can use the Store Visits objective. This way, Facebook knows exactly where all your locations are so they can be more effective with the advertising.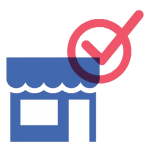 So, based on the above targeting Facebook shows your ad to people they think will be apt to visit one of your locations. They then track what people do after seeing the ad to see if they actually go to a location. The main way they verify if someone has visited a store is through location services – if the person has enabled location services and has the Facebook app running in the background on their phone, Facebook knows where they are and is aware when they visit a location. They also perform verification pools with people they think have been to your location to confirm that they have done so. It's kind of creepy, but incredibly powerful.
Through this process, Facebook can then track when someone sees your ad and then later actually shows up to a store. The more this occurs, the better the targeting gets. As an example:
Brand XYZ is a franchise organization with 100 locations. They implement the Store Visits objective across their entire network.
Tina works close to an XYZ location and is on Facebook during her lunch break.
Tina fits the profile of a prospective customer for brand XYZ and is near a location, so Facebook shows her an ad.
1 week later, Tina walks into an XYZ location with her phone in her purse. As she is a frequent Facebook user, the app is active in the background on her phone even though she is not using it right now.
Through location services, Facebook knows that Tina is in an XYZ location and reports that in their analytics as a visit.
Because Tina actually visited a location, Facebook looks for other people like Tina (based on demographics, interests) to show ads to, as she seems to fit the profile of someone who is interested in visiting the store.
This is very powerful functionality, but from a franchise perspective, this isn't even the best part. Facebook has integrated the Store Visits optimization with the Locations framework to allow multi-location businesses to cascade national ads onto local pages. This is something Facebook has never done before, and it has huge benefits for franchisors and franchisees.
Here is how it works:
The franchisor can create an ad within Facebook's Ad Manager with the "Store Visits" objective
When creating the ad, the franchisor can choose whether the ad is served from their corporate page, or from their local franchisee pages
Serving ads from the local pages instead of the corporate one has many benefits, which we will discuss in the next article in this series
The franchisor can enable some minor localization such as location name, phone number, and address. The downside is that you can only use pre-determined Facebook variables based on the data included on your Facebook pages
Through this approach, the head office is able to create ads that run across local pages with some degree of localization of the copy. Unfortunately, the page the ads links to and the photo needs to be the same across all locations. Although these are significant issues, the Store Visits objective is still the closest Facebook has gotten towards a national/local framework that can be applied to franchise systems.
The Missing Ingredient: Local Involvement
Although these are all great opportunities for franchise systems, the major item missing is local involvement. As we discussed in the previous article in this series, the power of a franchise comes from the local level – local innovation, copy, photos, targeting, and even budgeting. The more local and relevant the ads, the better they work. This also holds true for the landing pages – including local photography, phone number, and address has a dramatic impact on how well your landing pages convert into quality leads.
Stay tuned for the next article in this series, which will address how best to implement an advertising approach on Facebook which incorporates the best of national and local to create a winning campaign. Using these local-centric approaches, you can dramatically increase the effectiveness of your franchise's Facebook advertising efforts.
TAGS